DigitalOcean is the best cloud hosting in budget friendly prices. Thousands of Pro bloggers and internet marketeers are now moving to digitalocean as their plan starts form just $5 per month with unlimited bandiwdth and faster speed.
Here we are with latest Digitalocean coupon code which enables gives you free $35 credits so you can use 7 months hosting for free with the best infrastructure.
[junkie-alert style="green"] Remember, Cloud Hosting is 200 times faster than traditional shared hosting and also have better server performance than traditional shared hosting.[/junkie-alert]
DigitalOcean coupon code : $35 free credits
We have a trick which allows you to get instead $35 free credit coupon code so you can redeem on your DigitalOcean account. This is official so don't worry.

The free credits is provided by codeanywhere which is a collaboration platform for developers to share files, folders and share entire development environment with each other.
In an initiative they are offering $35 DigitalOcean credits to everyone, So better grab it before the deal expires.
How to Receive free $35 Digitalocean Credits
At first you need to create a new account on Codeanywhere
It will take 10 seconds to create a new account on codeanywhere, No email verification is needed for account activation.
Visit CodeAnywhere Signup page
Now after your signup has finished, Codeanywhere will redirect to its editor page.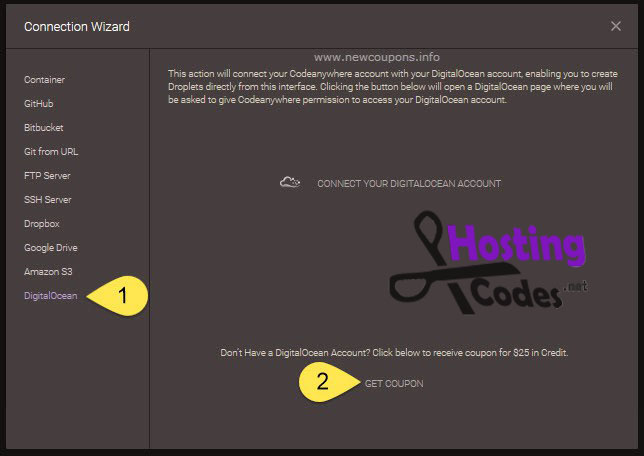 Now look at bottom left and you will see "DigitalOcean". click on it
Now click on "GET Coupon" button on middle bottom and a unique coupon will be displayed with $25 free Credits.
Step 2: How to redeem free Credits on DigitalOcean:
After you have got the coupon, visit the special digitalocean page by clicking on button or link below
[junkie-button url="http://hostingcodes.net/go/digitalocean" style="green" size="medium" type="square" target="_blank"] Visit DigitalOcean [/junkie-button]
Register yourself on Digitalocean.com from above link in order to get extra $10 credits.
Once your signup process is completed on Digitalocean than navigate to settings > Billing > Promo Code and paste the promo code which you copied from Codeanywhere.
Instantly you will receive $25 free credits on DigfitalOCean from codeanywhere and also $10 extra credits for signing up.
[junkie-alert style="yellow"]
Note:
If you only get $25 total credits on digitalocean due to some technical glitch, then create a support ticket at
Digitalocean and they will manually credit extra $10 in your account within some hours.[/junkie-alert]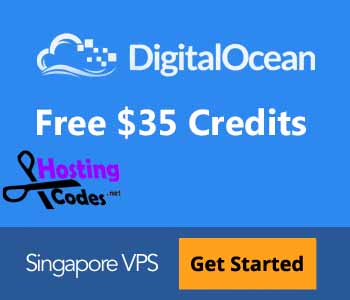 Conclusion.
DigitalOcean is the best choice to hosting high traffic websites or any cloud application as they offer lot of apps install & better security. you can choose numerous of servers & data center location on digitalocean depending on your need.
So guys, Enjoy this latest DigitalOcean coupon code of $35 free credits. You may install WordPress on digitalocean by creating any minimum configuration droplet and select one click wordpress install from App settings.
There are thousands of digitalocean tutorials available on their website for setting up domain &  install cloud apps.
Happy Blogging 🙂